Massage is done before an event. It is most beneficial when done for about two hours. The ramifications of massage can last for 2 or a day. Some athletes may benefit as many as two days. The focus of this massage isn't to replace, but instead enhance the athlete's warm-up routine.
Pre-event massage Watford

to improve circulation and warm the cells
Also applied to reduce muscle tension, improve flexibility and range of movement
Can decrease anxiety, heighten the athlete's sense of well-being and ability to focus
Normally on-site
Performed two days to 10 minutes prior to the event
Clients are usually sporting athletic apparel or warm-up suits
15 to 20 minutes of brisk treatment
I Use mild, non-specific rhythmic compression, rhythmic compression, kneading, shallow friction, vibration, stretching and joint motions.
I Concentrate on the primary muscles involved in a case
Little or no draping
No lubricant
No changes are made to the length of muscles
No comments are made concerning customer's tissue unless an accident is suspected at which point I refer them to the medical tent
The techniques should not be profound or debilitating
Because client awareness could be changed no changes are made through massage.
More specifically, pre-event massage is meant to:
Increase circulation to the Main large muscles that will be used at case
Increase the temperature of the muscles
Soften the connective tissues
Reduce muscle strain
Enhance Assortment of movement
Boost general kinaesthetic awareness
Reduce overall anxiety
Also important are additional advantages including changes in brain wave activity, lowered blood pressure, and reduced levels.
Massage is based on a routine in. Psychologically massage benefits athletes by heightening their awareness of well-being and the ability to concentrate and decreasing anxiety. I try to concentrate that the athlete will use throughout the event Since this massage is short. Any muscles which may be held in contraction that is passive for lengthy periods.
The session is non-specific and mild. The strokes used most often consist of motions, kneading friction, tapotement, vibration, and stretching and compression to improve flexibility. They're applied briskly faster. Energize the customer and They're intended to boost circulation. I use motions to stimulate fluid generation for lubrication and shock absorption.
Inter-event massage
Massage is performed and with a specified time period. For instance at half-time or between heats in an event. This sort of event sports massage lasts no longer than 10 minutes. Focuses on any regions of increased tension which have happened in the activity as a consequence of involvement.
Post-event massage is performed within 2 hours of their performance. Reduce muscular and connective tissue tension in addition to it focuses to assist in recovery.
Post-event massage to improve circulation
Applied to reduce muscle strain, congestion and possible muscle soreness and restore flexibility. If necessary, relieve muscle cramps.
Usually onsite
Performed within 6 hours following the event
Clients are usually sporting athletic apparel or warm-up suits, or when potential dry garments
15 to 20 minutes or less, reasonably paced treatment
Employed gentle compression, stretching, gentle joint motions and fulling and lifting
Concentrate on the major muscles involved in the athletic event
Used lubricant
No heavy stokes are utilized
Athletes put on clothes if they're receiving treatment immediately and should cool down. Post-event massage focuses on the muscle groups specific to the game, and the article massage's purpose is to:
Encourage circulation in and around the muscles
Reduce muscle strain
Increase circulation
Minimize possible delayed onset muscle soreness (DOMS)
Restore flexibility
If necessary, relieve muscle cramps
Immediately the athlete stretches and cools down. Frequently debt is being suffered by their musculature. Among the advantages of massage is increased circulation. It reduces buildup and provides oxygen. Byproducts are compounds that build-up from the muscle tissue. That makes the athlete feel achy and sore. Sore muscles and the stiffness, which discourage people can be avoided with a massage.
Post-event massage
Post-event massage usually lasts 15 to 20 minutes. The session is slower-paced, providing overall and comfort relief and concentrates on the muscles. Lubricant enriches and increases the relaxation of strokes. Since they can harm the tissues that were fatigued strokes are avoided. Motions and compression are contained in post-event massage patterns. The speed of this application is slow to avoid causing a muscle cramp during an athlete's post-event massage. Massage strokes applied may cause cramping to happen. Movement and gentle stretching may be applied to promote circulation and to relax muscles. Some versions include lifting and fulling.
---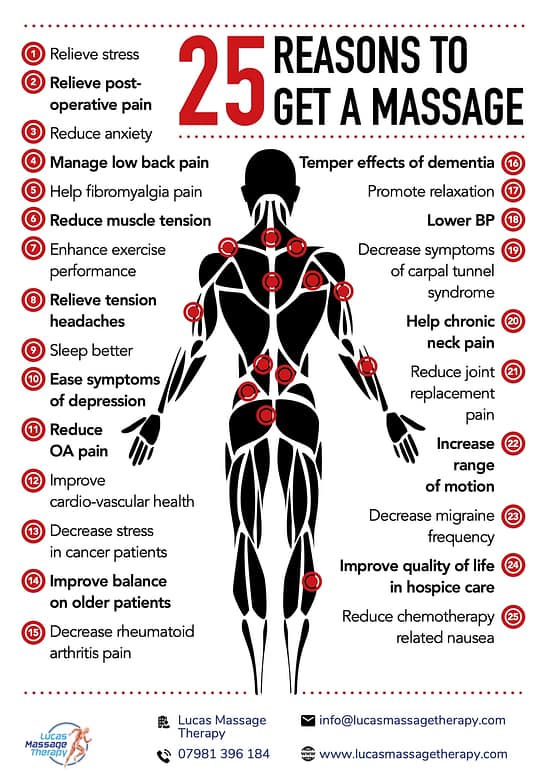 ---