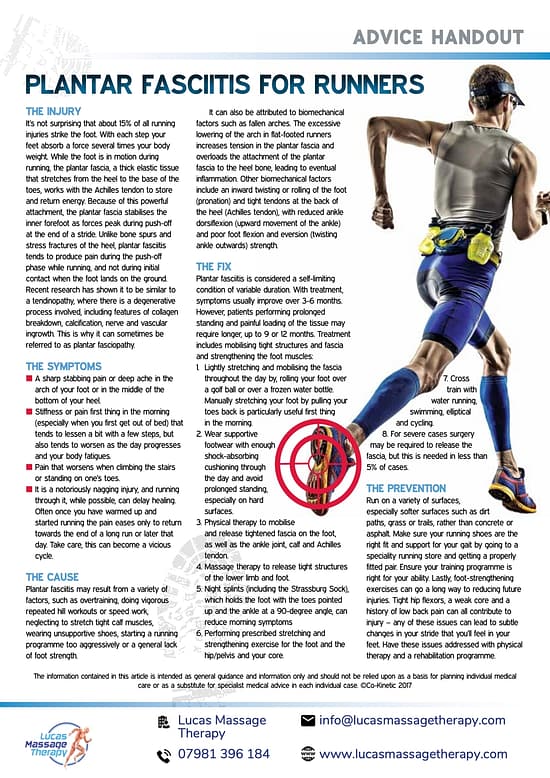 ---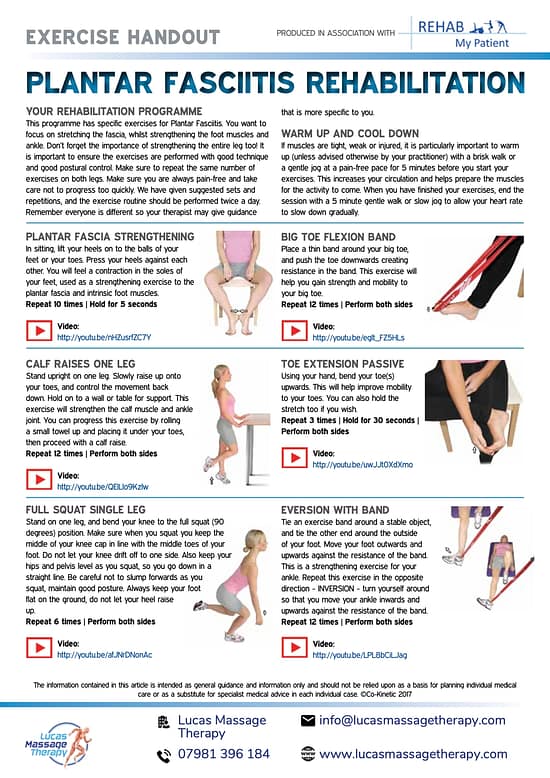 ---
We have also put together a newsletter looking at the topic of running injuries more broadly. If you'd like to download a copy, you can do so at the following link.
---
Cause of injury
Running on a hard surface. Ill-fitting or improper footwear. Arch problems. Training errors. Overuse. Over-pronation. Bad flexibility of the calf muscles (gastrocnemius, soles, plantar and an Achilles tendon.
Signs and symptoms
Pain. After the action is stopped pain may diminish during exercise but return.
Complications unattended
Can cause chronic pain that might cause a change in running or walking gait. This, in turn, may result in hip knee and back issues.
Immediate treatment
Rest. Ice. Ultrasound. Anti-inflammatory medication. Then massage and heat to promote healing and blood circulation.
Rehabilitation and prevention
Stretching the Achilles tendon and plantar fascia can help speed recovery and prevent a recurrence. Fit or A orthodontic for the shoe might be required to act at the start of the return. Strengthening the muscles of the leg will function prevent this condition and safeguard the fascia.
Long-term prognosis
Most people with plantar fasciitis recover after a couple of weeks. Injections of corticosteroid may be necessary for circumstances where the fascia does not respond to treatment that is early.
---
Massage is beneficial for plantar fasciitis. By reducing muscle tension in the lower leg and by extending and softening the collagen fibres massage assist the condition heal in addition to can reduce the discomfort of plantar fasciitis.
The plantar fascia extends along the bottom of the foot between the calcaneus (heel) and the distal ends of the metatarsals. Plantar fasciitis is a painful state of the fascia which can result when it stressed is overused or hurt. Upon getting out of bed in the morning or after the foot has been immobile and the sole of the foot is tender anterior to the calcaneus, people feel more distress. There's some debate about whether this is a degenerative or inflammatory disease, so treatments are different. It's common to observe a bone spur at but it's not clear whether the pain caused or caused the bone spur.
It's necessary for supporting the arch of the foot and for cushioning the foot's bones. Ankle movement when confined by calves, can irritate the fascia. Pain is felt especially. Running or walking, with tight calf muscles and especially on hard surfaces, make an athlete more susceptible to this injury. Arches and footwear that is wrong may lead to plantar fasciitis.
---