Golfer's elbow, also known as epicondylitis, is a kind of tendinitis. Golfing is just one of several sources of this affliction, which could result from any activity resulting in overuse of tendons and the muscles of the forearm. While the painful sensation at the elbow is much like tennis elbow, in the event of golfer's elbow the inflammation and pain occur at the interior (or medial side) of the joint.
The medial epicondyle is a bony prominence on the inside of the elbow. It's the point for muscles used to bend down the wrist. Repetitive bending of a wrist and the fingers may result in small ruptures of tendon and the muscle in this region. While the golf swing tendons medial epicondylitis can be led to by them and generates a tightening in the flexor muscles, the injury can be produced by other actions.
Case of injury
Sudden injury or blow to the elbow. Repetitive stress into tendons and the flexor muscles of the forearm. The stress put on the arm. Underlying health problems such as neck problems, gout, arthritis or rheumatism.
Signs and symptoms
Tenderness and pain in. Pain resulting from grasping or lifting objects. Difficulty.
Complications unattended
If the task persists golfer's elbow, while alleviated by rest, can cause unpleasantness and pain. The condition reacts to rehabilitation and requires surgery. Should surgery be required, scar tissue is removed from the elbow.
Immediate treatment
Avoidance of the elbow. Regimen for 48-72 hours after the injury. The use of analgesics and drugs.
Rehabilitation and prevention
In the event of golfing, the affliction prevented entirely to attention and technique to overuse or can be lessened in severity. When tendons and muscles are not conditioned golfer's elbow is much more widespread early in the golf course. Rehabilitation involves preventing the activity. The use of analgesics for anti-inflammatory and pain drugs help reduce symptoms. After recovery exercises could be undertaken to enhance strength.
Long-term prognosis
Those suffering from golfer's elbow make a complete recovery or advanced medical care, given the elbow is given rest from the stressful task.
Sport's massage treatment has been proven to be effective in the short and long-term direction of Golfer's Elbow. Aims to achieve:
Reduction of elbow pain.
Facilitation of tissue repair.
Restoration of normal joint range of motion and function.
Restoration of muscle length, strength and movement patterns.
The normalisation of your upper limb neurodynamics.
The normalisation of cervical joint work.
---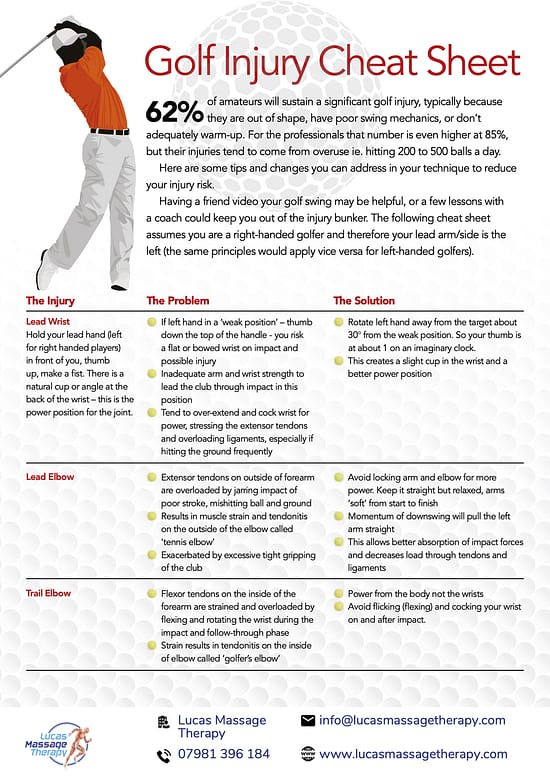 ---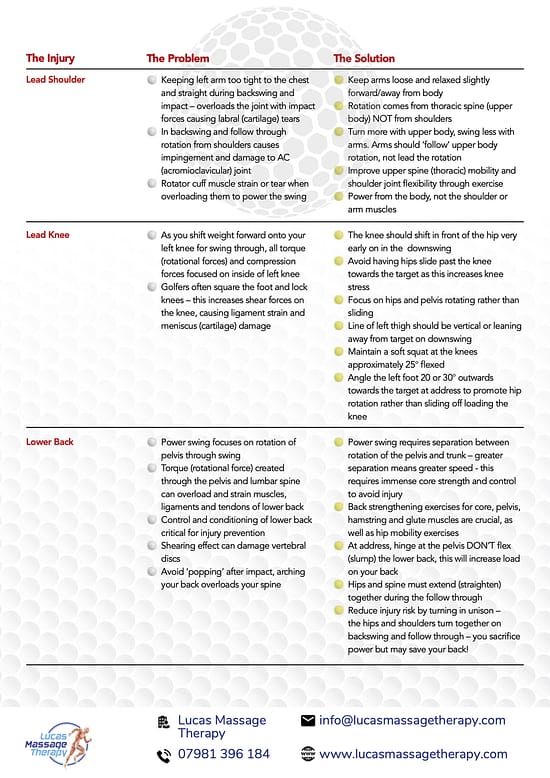 ---