---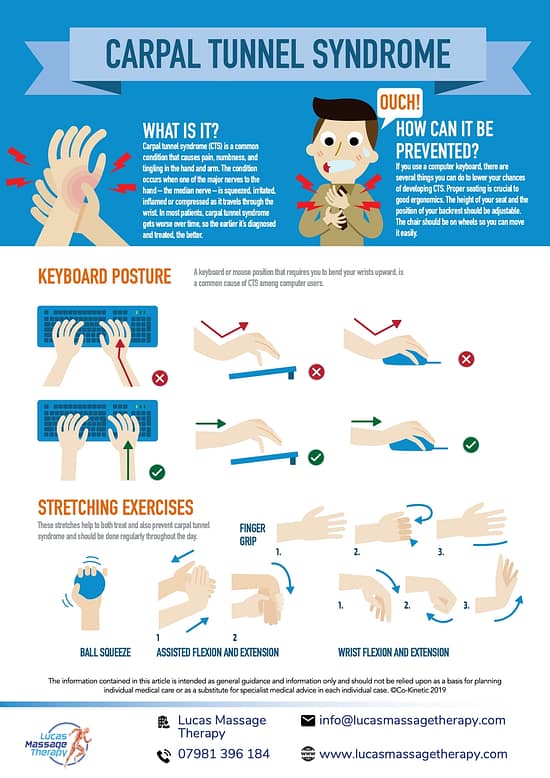 ---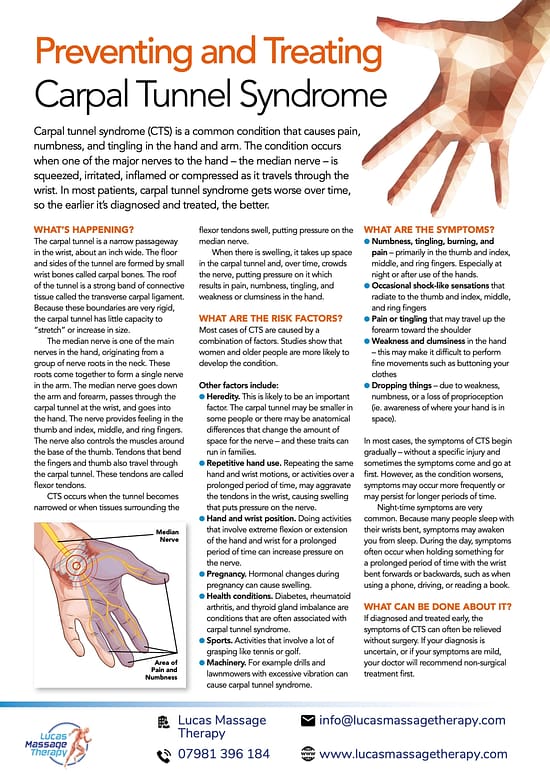 ---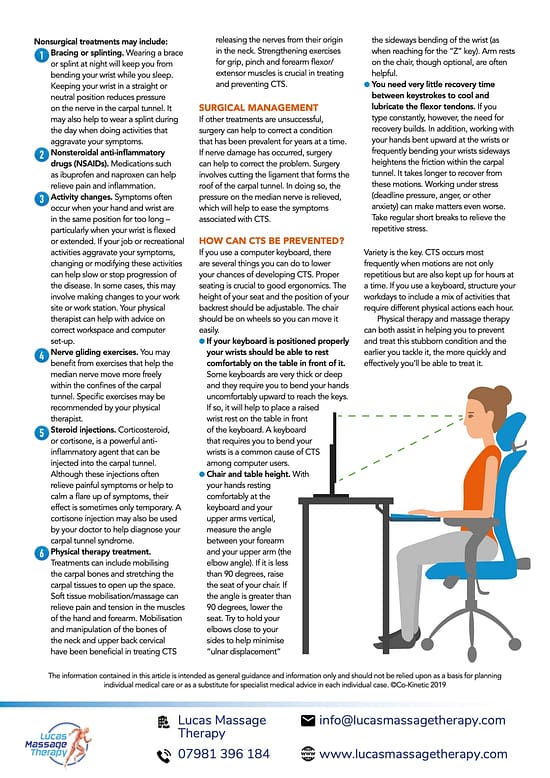 ---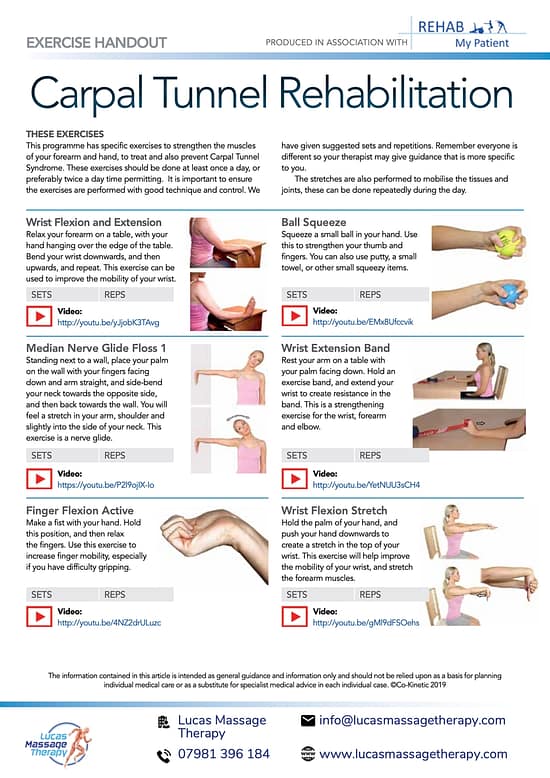 ---
We have also put together a newsletter looking at the topic of posture more broadly. If you'd like to download a copy, you can do so at the following link.
click here to download all leaflets
---
Carpal Tunnel Syndrome
Carpal tunnel syndrome (CTS) is a progressive illness which might be due to direct injury or repetitive overuse leading to compression of the median nerve in the wrist. The condition is likely to affect women due. Diabetes and pregnancy are risked factors.
As they pass from the forearm into the 24, the tunnel surrounds the nerve and flexor muscle tendons. Raised pressure in the tube may happen as a consequence of tendons that are inflamed or irritated, causing pain, weakness or numbness and resulting in compression of the nerve.
Cause of injury
Sporting activities that involve repetitive flexion and extension of the wrist, e.g. biking, throwing events, racket sports and gymnastics. Congenital predisposition. Trauma or injury including sprain or fracture. Occupational tasks.
Signs and symptoms
Burning, numbness or itching of fingers and the hand. The sensation of wrist and finger swelling. The weakness of grip. Wake the person.
Complications unattended
CTS may lead to loss of sensation as the muscles of the thumb atrophy in weakness and certain fingers of the thumb. Perception and heat may be impacted in untreated CTS cases.
I
mmediate treatment
Cease persistent stress activity. Immobilization of the wrist with splint or bandage to prevent irritation.
Rehabilitation and prevention
Allowing for rest and rehab time after diagnosis of carpal tunnel syndrome and halting the game or activity is vital. A splint or a bandage can be used to stabilize the hand that was wounded. Releasing the tension during exercises and sports to keep stiffness and mobility might help prevent the onset of CTS.
Long-term prognosis
Recurrence of carpal tunnel syndrome following treatment is rare (except in cases of an underlying disease like diabetes). Corticosteroid surgery and injections in persistent cases. Nearly all patients recover.
Tunnel syndrome, which causes more days away from work than any other condition, is now a household word, but it is not. When that individual stands up, you are likely to find an upper back, with a mind that a chest and forwards. What you can not see will be the contracted muscles in the front and side of the neck, the shortened biceps (both factors in carpal tunnel syndrome), forearms chronically in spasm from typing, tight hip flexors, compressed nerves in the pelvis, and buttocks with diminished blood flow. Did you know that if you sit on your butt all day, your muscles stop working? The gluteus is not something they muscle you will need to stand jump, erect, and walk upstairs.