Achilles tendon strains require healing time and can be painful. An injury for this tendon can be painful due to its participation in walking and even balance during weight-bearing. Actions that involve pushing against resistance such as weight and rugby training, contribute to this harm.
The strain can be rated from 1 to 3 on a scale:
Grade 1 breed: small or stretching tear of less than 25 per cent of a tendon.
Grade 2 strain: 25-75% tearing of the tendon fibres.
Grade 3 strain 75-100% rupture of the tendon fibres.
Cause of injury
Abrupt contraction of the muscles when the tendon and the muscle are inflexible or cold. Signs and symptoms
Pain in the Achilles tendon, in grade 3 breeds to severe from discomfort in grade 1. Swelling and tenderness. Pain when climbing on the toes. Inability to flex the ankle. Stiffness after resting in the calf and calf area.
Complications unattended
If left unattended A tear may turn into a rupture. Tendinitis and bursitis may develop from the tendon.
Immediate treatment
RICER. Anti-inflammatory medication. Then massage and heat to promote healing and blood circulation. Medical and immobilization aid for grade 3 breeds.
Rehabilitation and prevention
Rest is important and a gradual return to action must be undertaken. Stretching and strengthening the calf muscles is important to rehabilitation and to prevent a recurrence. Warming-up the calf muscles before especially those involving contractions like sprinting, all actions, is vital to prevent strains.
Achilles tendon pain
Because of the blood supply in joints, they take longer to cure than the muscle, but with rehabilitation and rest the Achilles tendon can return to normal functioning. Surgical repair is usually required by ruptures.
---
---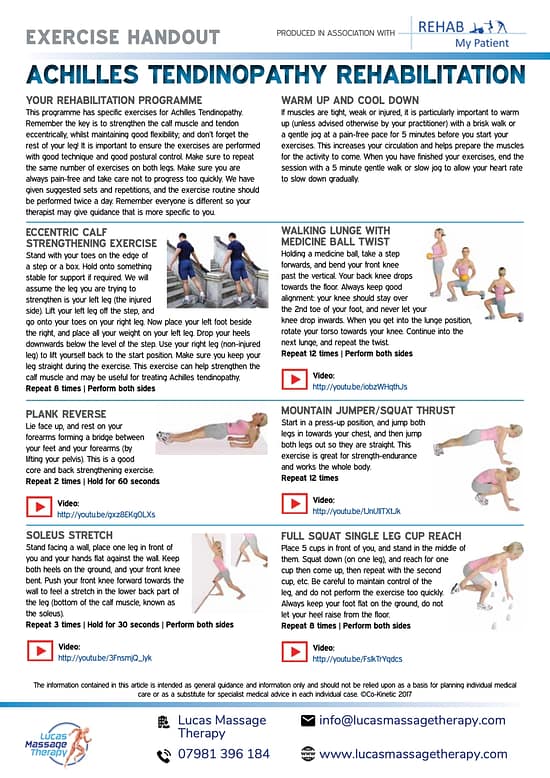 ---
We have also put together a newsletter looking at the topic of running injuries more broadly. If you'd like to download a copy, you can do so at the following link.
---